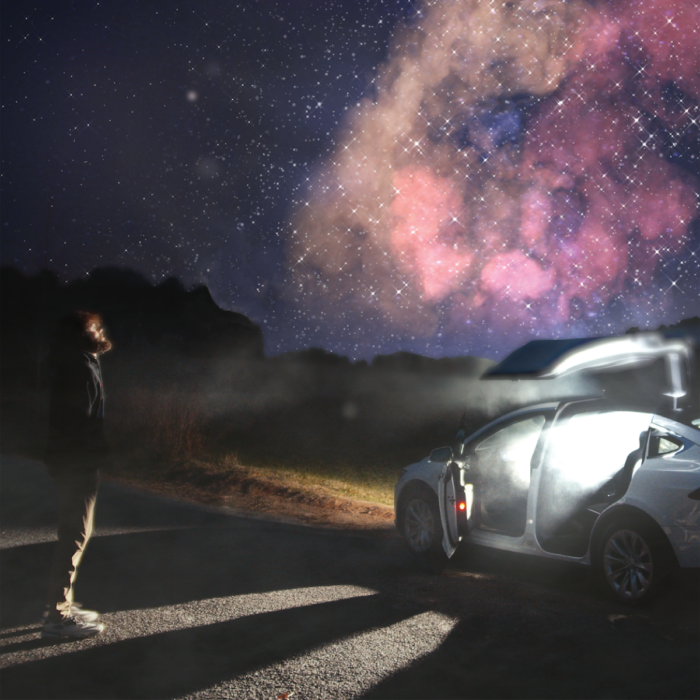 Today, the 6 Dogs estate has released "Starfire (Teen Titans)," the first single from his upcoming posthumous album RONALD. "Starfire (Teen Titans)" is named after a character from Cartoon Network's Teen Titans who could convert sun and starlight into pure energy – which is the perfect metaphor for 6 Dogs' creative process. 6 Dogs had the innate ability to draw energy from everyday life and seamlessly apply these lessons learned and emotions felt into his art. 
"Starfire (Teen Titans)" sees 6 Dogs' signature melodic, yet monotone flow glide over thumping 808s and other-worldly sounding synths. Thematically, 6 Dogs reflects on how his flossy lifestyle doesn't make him less lonely, rapping, "New Chanel on wrist bone like through a fishbowl / Water diamonds mixed with the good crystal / Now we just, peel off / I was in the chaos." The song sounds like the cover art – it's like looking up into the night sky and accepting your singularity within this massive universe.
RONALD is exactly the album 6 Dogs, known by friends and family by his middle name, Chase, set out to release. The album was originally titled Wavebuilder's Club, but as the project developed the meaning of the album evolved and so did the title. The album represented a new beginning for Chase, so he elected to change the title from Wavebuilder's Club to RONALD, which was his given first name – Ronald Chase Amick. The final album was delivered to his distributor on January 9th with initial plans to release on February 26th. Due to his passing, RONALD was pushed back two weeks, but everything remained the same – the singles, timeline, music videos, album artwork. Everything you will hear and see from RONALD is exactly as Chase had planned. RONALD is set to release on Friday, March 12th.